»

Blogs

»

Menu

»

French Breakfast Menu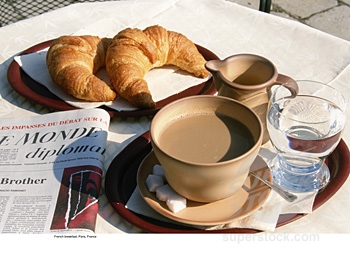 A typical French breakfast menu is simple and light – just the ight pick for those lazy mornings. French breakfast (Le petit déjeuner) is often a quick meal of sliced buttered French bread together with fresh fruit juice or coffee, while kids prefer hot chocolate instead of coffee. However, I go for the hot chocolate – just for the health benefits. Yeah, it has a lengthy list of healthy factors – it increases blood circulation, gives energy and is effective in tackling digestive disorders and infectious disease – pretty good reasons to opt for the yummy chocolaty brew huh!
                   French Bread                                  Hot Chocolate for French Breakfast
Kick-start the day with a French breakfast menu inclusive of:
Croissant  
French Bread  
Orange Juice
Fresh Coffee  or Hot Chocolate Drink
I occasionally add Honeyed Fruit Salad too, just to bring in a few ounces extra luxury!