»

Blogs

»

Reviews

»

Fred-O-Matic Kitchen Timer
Fred-O-Matic Kitchen Timer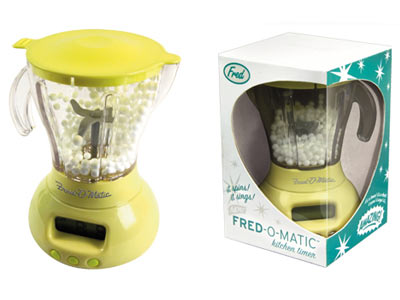 Fred-O-Matic Kitchen Timer - The funny gadget that sings!
My oh my! Cooking was never this fun. They say timing is the deciding factor in brewing up those yummy dishes and this is not going to be a problem for me, not anymore! The Fred-O-Matic Kitchen Timer is some lively timer. When Jeff brought this home I was like why-another-mixer! He just winked at me, set the time and believe me when I say I screeched to my highest possible decibel when this the timer went off! The Fred-O-Matic Kitchen Timer whirls and plays an assortment of 1970s' game show jingles! Quite a smart timer it is. This has a digital time display which changes into a 99 minute timer on the press of button. Find this Fred-O-Matic Kitchen Timer here.

Marylyn says :
I can't find the Fred O Matic Kitchen timer anywhere. My 1 year old grandson adores it, but accidentally broke it. He is absolutely distraught over the loss of this "toy." He taught himself to set it so it would "PoP' and the music start. Hope you can help me locate it. I want several.
Posted on:
19 August 2011 - 12:48pm