»

Blogs

»

News

»

Etihad's Recipe For Success: Flying Chefs
Etihad's Recipe For Success: Flying Chefs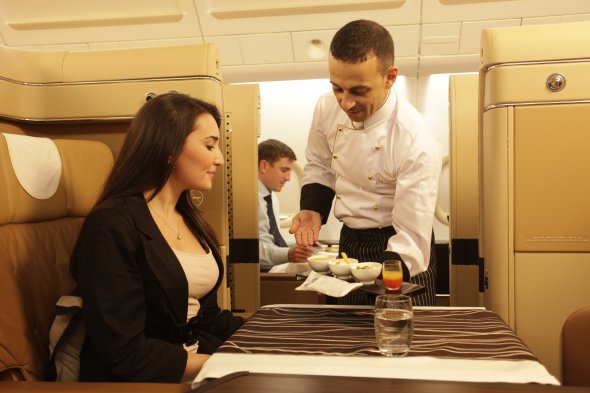 Etihad Airways has long been associated with first-class travel comforts, which people with deep pockets can enjoy mid-air. But the airlines company was not satisfied with just that and took the next step in mid-air dining with 'Flying Chefs.' Quite similar to the culinary revolution conjured by Celebrity chef Heston Blumenthal a few months ago, this is one culinary experience you must not miss in your life. If you are interested by now, then, you should continue reading:
Flying Chef Program
It was late last year that Etihad launched its 'Flying Chef' service, which saw masterchefs rustling up first-class gourmet meals for special clients mid-air, making their traveling experience all the more comfortable. Gourmet meals are not new to airlines but what these chefs do is nothing short of a culinary miracle considering the fact that they get to work inside cramped spaces and at higher altitudes. Despite that, the airline has been winning a number of awards for the culinary excellence. The latest award, which the company received, is the Skytrax World Airline Awards for best first-class catering for the year 2012.
Five-Star Service
The Etihad program is all about providing the customers an out of the world experience. Werner Kimmeringer, who heads the catering and guest experience for the Airways, is emphatic when he says, "We introduced chefs in our first class cabin so we could offer a five-star restaurant style of service. Our first-class guests receive unparalleled attention and choice -- for example, the opportunity of having their personal chef tailor-make dishes based on their individual tastes and preferences." He informs that inside the aeroplane, the chefs cook up such highlight dishes like "pan-seared scallops with parmesan cheese sauce" and "balik style smoked salmon" as part of the airline's first-class menu.
Talking & Serving
The chefs don't spend all their time aboard Etihad planes just cooking. They also get out, spend time with the guests, seek and give food recommendations to them. Kimmeringer explains, "The chef can talk (to) and recommend food directly to our guests and make suggestions of what they might like on the menu." Kimmeringer says that by doing so the chef is "able to personally adjust seasonings and recommend menu and beverage choices to each guest. They can also make changes to existing menu items...changing sauces or taking our particular ingredients."
Not All Good
Well, the flying chef program may sound like too good for the critics, who are quick to point out its limitations. One of them is Gottfried Menge, who is group director of culinary excellence at Gate Gourmet, an airline catering service provider. Menge said, "Because of the (safety) limitations on the aircraft there are no items like a frying pan where a chef is cooking and tossing things up in a different way." The airlines do not allow knives or other sharp objectives aboard, thus not allowing the chefs to work freely. Also, as a result of these limitations, most of the food is still prepared on the ground and then reheated to be served to passengers. What the celebrity chefs do is make changes with the seasoning, etc. Menge also has issues with the altitude at which the food is cooked. He said, "The cabin pressure of being at 35,000 feet in the air means you lose about 10% of your taste buds. Therefore the food always has to be stronger or there will have to be a little bit more seasoning, which obviously alters the taste."
As for Etihad program, the airline has already hired 110 chefs, some of them poached shamelessly from five-star restaurants, who work in the airline's Diamond First Class Cabins. The airline pantries are stocked with premium quality meat, sauces, spices, fresh vegetables, and par-cooked items. The airline management is very proud of its program as Lee Shave, Vice President Guest Experience, says, "By introducing First Class Chefs and refocusing our unique Food and Beverage Managers in business class, Etihad Airways has created the most robust inflight culinary team in the skies." Well, that is one challenge, no one is going to dispute. While the world has already witnessed the Burssels' dinner in the sky in June this year, but the Etihad experience is way above that.
Image Courtesy: businessinsider, flymefunky