»

Blogs

»

Eating

»

Emotional Eating Demystified ?
Emotional eating demystified ?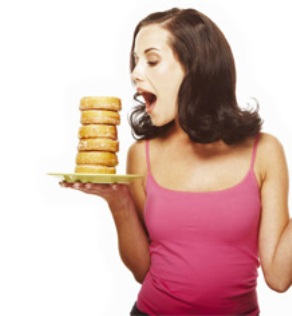 What do you know about Emotional Eating?
Seeing food as more than just a source of energy and enjoying it simply for the satisfaction it gives is not wrong. In fact science shows that food can promote good feelings by chemical reactions caused in our brains. What IS a problem is when an individual cannot experience pain, anxiety, joy or even boredom without turning to food as means of dealing with those feelings, or they are obsessed with food, weight and dieting.
Emotional eaters turn to food as a source of distraction from dealing with feelings. However, eating these foods leads to feelings of guilt which can only be soothed with more eating, restrictive dieting, excessive exercise or purging.
Emotional eaters tend to value themselves based on their weight and how closely they've stuck to their 'ideal' diet. Because of this distorted relationship with food, foods are labeled "GOOD" and "BAD". Emotional eating can lead to serious eating disorders and depression.
HOW DO I KNOW IF I'M AN EMOTIONAL EATER?
Do you turn to food for reasons other than hunger? Are you obsessed with thoughts of food - whether you plan to eat it or are concentrating on restricting yourself from eating it?
Do you regularly try diets and fail - leading to guilt and further over eating? Do you think about or attempt to purge excess food by throwing up or using laxatives? Do you exercise compulsively when you think you've eaten too much?
HOW DO I OVERCOME EMOTIONAL EATING?
Since emotional eating is caused by looking to food as a coping strategy for emotional distress dieting can actually create more problems. When the emotional eater fails to stick to a diet they suffer feelings of guilt that can only be soothed with more food and in turn, more guilt or punishment.
Instead of trying to focus on what they are eating, the emotional eater needs to learn new skills for coping with stressful emotions. Often this requires the help of a Personal Coach or Psychotherapist who deals with emotional eating. It is only by finding replacements for the comfort food provided that the individual can put food into its rightful place and learn healthy eating habits that last a lifetime.

Interesting article-if I am upset I stop eating-no hunger. I only eat when hungry or getting hungry, never allow myself to become really hungry then you over eat. Small meals and snacks of fruit or veggies maintain your body to never go into starvation mode. I only eat if it is really good! Why waste calories on just so-so food? Emotional eating is something I have seen but do not understand as when I am upset, sad, or angry I can't eat. Also in hot weather I can't eat - then I just drink a lot of water. Shanti/Mary-Anne
Posted on:
28 December 2007 - 2:10pm

....obesity ,heart problems ,diabetes and other diseases can knock your door .......it will be dangerous for you! So, please avoid emotional eating !
Posted on:
28 December 2007 - 2:15pm

How to regain control of your eating habits Though strong emotions can trigger cravings for food, you can take steps to control those cravings. To help stop emotional eating, try these suggestions: * Learn to recognize true hunger. Is your hunger physical or emotional? If you ate just a few hours ago and don't have a rumbling stomach, you're probably not really hungry. Give the craving a few minutes to pass. * Know your triggers. For the next several days, write down what you eat, how much you eat, when you eat, how you're feeling when you eat and how hungry you are. Over time, you may see patterns emerge that reveal negative eating patterns and triggers to avoid. * Look elsewhere for comfort. Instead of unwrapping a candy bar, take a walk, treat yourself to a movie, listen to music, read or call a friend. If you think that stress relating to a particular event is nudging you toward the refrigerator, try talking to someone about it to distract yourself. Plan enjoyable events for yourself. * Don't keep unhealthy foods around. Avoid having an abundance of high-calorie comfort foods in the house. If you feel hungry or blue, postpone the shopping trip for a few hours so that these feelings don't influence your decisions at the store. * Snack healthy. If you feel the urge to eat between meals, choose a low-fat, low-calorie food, such as fresh fruit, vegetables with fat-free dip or unbuttered popcorn. Or test low-fat, lower calorie versions of your favorite foods to see if they satisfy your craving. * Eat a balanced diet. If you're not getting enough calories to meet your energy needs, you may be more likely to give in to emotional eating. Try to eat at fairly regular times and don't skip breakfast. Include foods from the basic groups in your meals. Emphasize whole grains, vegetables and fruits, as well as low-fat dairy products and lean protein sources. When you fill up on the basics, you're more likely to feel fuller, longer. * Exercise regularly and get adequate rest. Your mood is more manageable and your body can more effectively fight stress when it's fit and well rested. If you give in to emotional eating, forgive yourself and start fresh the next day. Try to learn from the experience, and make a plan for how you can prevent it in the future. Focus on the positive changes you're making in your eating habits and give yourself credit for making changes that ensure better health. source: www.mayoclinic.com
Posted on:
2 January 2008 - 6:13pm