»

Blogs

»

Eating

»

Choices For Tea-Time Sandwiches – Great Way To Enjoy Tea
Choices For Tea-Time Sandwiches – Great Way To Enjoy Tea
Serving tea with tea-time sandwiches is certainly a great way to enjoy tea. In fact, sometimes I enjoy these small and savory sandwiches more than the tea. You should offer several choices for tea-time sandwiches, when you are throwing an afternoon tea party. Here I will share with you some of the best tea-time sandwich ideas from my recipe book.
Cucumber Tea Sandwich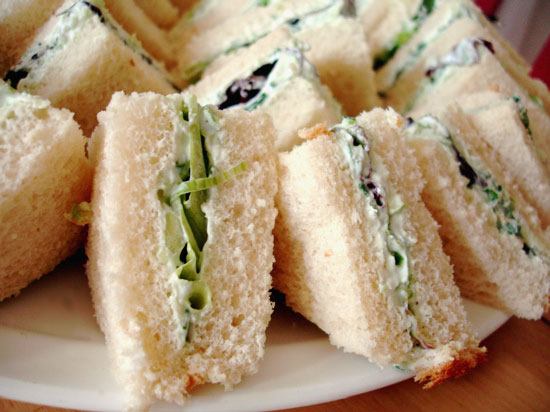 It is among the most common choices of tea sandwich. Take the cucumber to peel and slice thinly and lightly sprinkle some salt on the slices. In another bowl prepare the mix of lemon juice, olive oil and freshly ground pepper and then pour this mixture over the cucumber slices. Take another bowl to combine the butter and freshly minced garlic. Now spread the butter and garlic mix over the bread slices and arrange the cucumber slices in one layer on 1 slice and then top this with another one. Remove the crusts and cut into quarter pieces.
Carrot-Ginger Tea Sandwich
Grate the carrots in a large bowl and to this add cream cheese, ginger paste and mayonnaise to the right proportion. Blend all these ingredients well by adding salt and freshly ground pepper. To prepare the sandwich, first spread butter on both the slices and then put a thick layer of the carrot-ginger mix on one slice. Top with the other bread slice keeping the buttered part inside. Use a sharp knife to cut the crusts and piece the sandwich in 4 parts.
Devilled Egg Sandwich
To prepare the sandwich filling, you need to blend hardboiled eggs, mayonnaise, mustard, lemon juice and cayenne pepper inside a food processor. Make the mix to have a spreading consistency. Now spread butter or cream cheese evenly on the bread slices. Take a pair of slices, spread a thick layer of filling on one slice and then close with other. Cut the crusts and make your favorite tea sandwich shape by using a cookie cutter.
Smoked Salmon Tea Sandwich
To prepare this sandwich, take thinly sliced smoked salmon on a flat plate. Season the slices with lemon juice, salt and freshly ground pepper. Now spread soft cream cheese on the bread slices. Take a pair of slices and on top of one slice arrange the seasoned salmon nicely. You can add pepper over the slices for a second time, if you wish. Cover this layer of salmon with other piece of bread. Make quarter pieces and cut the crusts before serving.
Chicken Salad Tea Sandwich
First of all prepare the bread spread by combining butter, fresh basil leaves, lemon juice and salt. To prepare the filling take a large bowl to mix cooked and finely chopped or shredded chicken meat, mayonnaise, thinly sliced lettuce, salt and pepper. Now take the bread slices to spread the butter mixture. On top of that add a thick layer of filling on one slice and cover that with another slice by keeping the buttered side in. Cut the crusts and make your favorite shapes to serve these tea sandwiches.
Image Courtesy: recipes.blogger.info