»

Blogs

»

Chicken

»

Chicken Menu
A chicken menu can incorporate dishes that span nearly every cuisine in the world. Chicken being the most versatile of meat, it soaks up an array of flavors and seasonings from nearly every community and society. This menu can be made really special by using a diverse selection of recipes, seasonings, spices and cooking methods. Here are some delicious chicken dishes that you can think about incorporating in your chicken menu.
Chicken Cordon Bleu
As a starter or an entree, you can easily put Chicken Cordon Bleu bites on the menu. These bite-sized snacks carry the tasty flavors of Chicken Cordon Bleu into a chunk that is first pan fried, then concluded in an oven. Melted cheese and ham are the first things that an individual biting into this nugget is greeted with.
The classic roast chicken dinner has been a Sunday staple for eons. Italian flavors pair well with roasted chicken, especially in the summer months when fresh vegetables and herbs are easily available. In Italian cuisine chicken is frequently paired with such dishes such as herbed risotto, pasta marinara, and grilled eggplant tossed with olive oil.
If you want to put something a little different in the menu that people may not have tried before, why not try Thai Chicken wings. These are super addictive and you can't just stop at one so make plenty. The difference between these and regular chicken wings is the marinade. You need to make sure you have hoisin sauce stored in your pantry.
This is a very popular Indian dish and if the guests you are serving to enjoy spicy food, this is going to be a hit with them. Chicken curry is a wonderful one dish meal, combining protein and vegetables into one delicious dish. This is best eaten with some Naan bread or plain boiled rice.
Stewed Chicken
Traditional stewed-chicken dishes such as coq au vin, chicken with tons of garlic, and chicken with dumplings are favorites with people especially during the winter. You can even add some root vegetables to the pot for a feel of fall or throw in some dried figs and prunes in the meal for a sweet and aromatic stew.
General Tso's Chicken Salad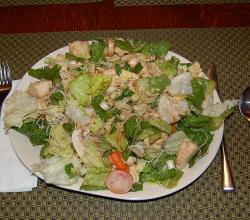 General Tso's chicken is mouth-watering, but can be very engaging and time- consuming to make. However, with the help of your neighborhood Chinese restaurant, you can cook up a quick and appetizing General Tso's chicken salad that will be perfect for a chicken menu.
These dishes should not only make your chicken menu eclectic and very culturally diverse but extremely flavorful as well.
Image credit – ifood.tv