»

Blogs

»

News

»

CERTIFIED HUMANE® REDWOOD HILL FARM ANNOUNCES ALL CONTRIBUTING DAIRIES HAVE EARNED HUMANE RAISED & HANDLED® CERTIFICATION
CERTIFIED HUMANE® REDWOOD HILL FARM ANNOUNCES ALL CONTRIBUTING DAIRIES HAVE EARNED HUMANE RAISED & HANDLED® CERTIFICATION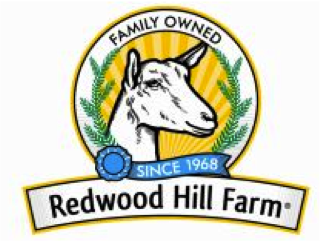 SEBASTOPOL, Calif. (Aug. 7, 2013) – In 2005, Redwood Hill Farm® became the first goat dairy in the United States to be Certified Humane Raised and Handled®. Humane animal treatment has always been a top priority at Redwood Hill Farm since it was founded in 1968. As the business grew additional farms were needed to help supply the Grade A goat milk used in the company's award-winning goat yogurt, kefir and artisan cheeses. Redwood Hill sought out dairies that adhered to their operating standards and conducted regular inspections of their contributing dairies to ensure humane animal treatment. In 2012, Redwood Hill Farm took their commitment to the goats one step further, helping each of these dairies achieve independent certification from Humane Farm Animal Care® (CertifiedHumane.org).
"We are proud to announce that the family of farms that supply milk dairy for our Redwood Hill Farm products are now also Certified Humane Raised & Handled®, which is considered the 'gold standard' in third-party certification for humane animal treatment," said Owner Jennifer Bice. "Being good stewards of the land and the animals is something my parents instilled in me when they first founded Redwood Hill Farm 45 years ago, and I am proud to continue their legacy of guaranteeing the health, happiness and ethical treatment of all of our dairy animals."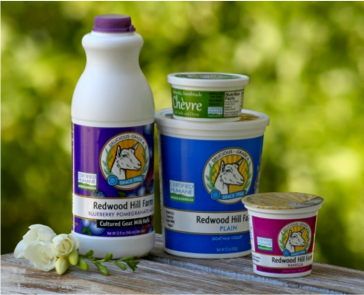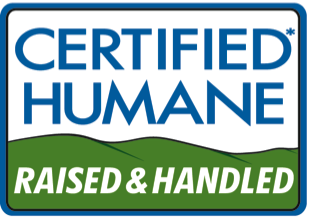 Redwood Hill Farm has updated their goat milk yogurt, kefir, French-style cheeses, Fresh Chevre and Raw Milk Feta packaging, which now proudly and prominently features the Certified Humane® logo.
To raise awareness for the growing number of producers dedicated to providing a humane environment for their animals, Redwood Hill Farm & Creamery® has launched a social media campaign. Consumers can show their support of Certified Humane foods by sharing "I Choose Certified Humane®" digital badges on Facebook, Twitter and LinkedIn. Badges are free and available for download at http://basno.com/c/ChooseHumaneRedwoodHill and
http://basno.com/c/ChooseHumaneGreenValleyOrganics. Each person who downloads a badge by Sept. 30 will be entered into a prize drawing for the chance to win one of two goody baskets filled with Certified Humane products from Redwood Hill Farm and Green Valley Organics.
"We appreciate the leadership by example demonstrated by Redwood Hill Farm as advocates for Humane Farm Animal Care. They have made it a priority to meet Certified Humane Raised & Handled® standards for their Redwood Hill Farm goat dairy line as well as their lactose free cow dairy line, Green Valley Organics®," said Adele Douglass, Chief Executive Officer of Humane Farm Animal Care. "Jennifer has been one of our biggest supporters, even providing counsel as we created Certified Humane Raised & Handled® standards, as one of the world's foremost experts on goats."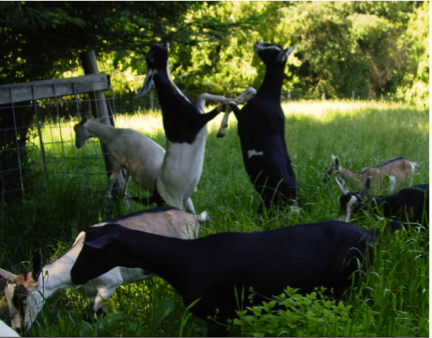 Certified Humane Raised & Handled® standards include that the animals are: fed a nutritious diet without antibiotics or hormones; raised with shelter, resting areas, sufficient space; and provided an environment that allows them the ability to engage in natural behaviors – conditions that Redwood Hill Farm and its contributing dairies met independently for years, and have further enhanced over the last year with various upgrades including: improving fencing and kid-raising facilities; updating animal care maintenance records; posting emergency contact information; and conducting dry run inspections to successfully prepare for annual Humane Farm Animal Care audits.

For more than 45 years, Redwood Hill Farm, the makers of America's first and favorite goat milk yogurts, has been caring for their beloved dairy goats as extended members of this family-run, sustainably-farmed business. Owner Jennifer and her brothers, Farm Manager Scott Bice and Marketing Representative David Bice, live on the family farm with their award-winning herd of 300+ goats – all of which they know by name.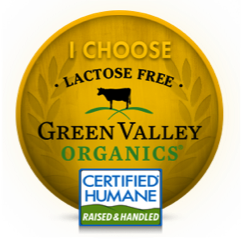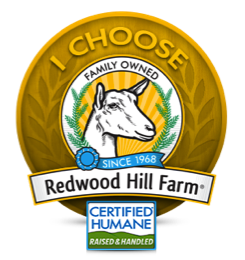 Humane Farm Animal Care (HFAC) is the leading non-profit certification organization dedicated to improving the lives of farm animals in food production from birth through slaughter. Producers who meet the rigorous, science-based standards of care are permitted to use the Certified Humane® label on their products. This label allows consumers to identify and purchase animal products such as meat, dairy, eggs, and wool that come from animals raised in a way that aligns with their ethics. Founded in 2003 by Adele Douglass, a 2008 Ashoka Fellow, recipient of the Purpose Prize in 2007 and an ASPCA Lifetime Achievement award winner, HFAC's Certified Humane® program has expanded rapidly over the past 10 years certifying more than 100 companies, representing thousands of farms and millions of farm animals. In 2003, approximately 143,000 animals were raised under HFAC's standards, a number which grew to over 76.8 million animals in the year 2012. Visit CertifiedHumane.org for more information.
About Redwood Hill Farm & Creamery, Inc. – Sustainably Farmed & Family Owned Since 1968
Located among the picturesque redwoods of western Sonoma County, Calif., 60 miles north of San Francisco, Redwood Hill Farm & Creamery, Inc. is a different kind of dairy. A small, family farm, it has been producing delicious, award-winning goat milk dairy products since 1968. Excellence is a top priority and Redwood Hill Farm & Creamery takes pride in producing the best tasting, least processed goat milk yogurt, kefir and artisan cheeses. Its products are free of sugar, artificial coloring, preservatives or powdered milk. Dedicated to protecting the environment and green open spaces, Redwood Hill Farm & Creamery is a proud supporter of Ceres Community Project, Climate Protection Campaign, Sonoma Land Trust, Daily Acts and LandPaths. Visit RedwoodHill.com and GreenValleyLactoseFree.com for recipes and to learn more about the company's wholesome products, award-winning goat herd and earth-friendly business practices, including the installation of a solar energy system at the farm and creamery where Redwood Hill Farm® and Green Valley Organics® products are made. Redwood Hill Farm and Green Valley Organics products are available at Whole Foods Markets, natural food stores and specialty grocers nationwide. To find a store near you, go to redwoodhill.com/store and greenvalleylactosefree.com/stores.