»

Blogs

»

Calendula Oil Benefits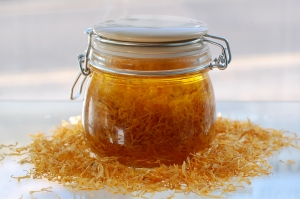 There are countless calendula oil benefits that you can make use of. Calendula is often called the pot marigold, and is a flower that is commonly found in Europe and Africa. The flowers of this plant find their way for varied use in the form of Calendula oils and creams. Calendula oil benefits is quite varied and has both medicinal benefits and also finds their way into daily culinary use.
Constituents of Calendula Oil
The main constituents of Calendula oil will include calendulin, beta carotene, and other constituents like isoquercitrin, narcissin, rutin, amyrin, lupeol, sterols and volatile oils.
Popular Benefits Of Calendula Oil
Anti-inflammatory
The anti-inflammatory properties of this oil makes it ideal for topical application on swollen and inflamed tissues. Dry skin, hemorrhoids and eczema respond to calendula's high triterpenoid contents and reduce the occurrence of inflammation and aids in alleviating painful conditions. This is also useful to apply for diaper rash.
Antibacterial
The antibacterial property of calendula oil benefits the healing of bacterial infections that occurs on skin abrasions. They help in aiding the cure of simple cuts, burns and abrasions and also have a soothing effect on prickly heats.
Antispetic
The antiseptic activity of the oil of calendula makes it an essential ingredient of a first aid kit. This is also find their way for use to prevent the occurrence of infections due to bacterial and fungal infections, which can occur on bug bites, scratches and on minor cuts and burns. However, this is best advised not to use this oil on deep tissue burns and cuts, for they can initiate sepsis.
Eases Ear Ache
Calendula oil can be applied directly into the ears to offer relief from ear aches.
Helps To Ease Fever
Calendula oil has the power to stimulate blood circulation and induce sweating, thus easing fever and boy pain.
Antifungal
Calendula oil can be applied topically to cure fungal infections like athlete's foot.
No wodner why these calendula oil benefits make it a part of Top 10 medicinal herbs.