»

Blogs

»

Milk

»

Buying Breast Milk Online Is Unsafe
Buying Breast Milk Online Is Unsafe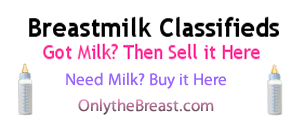 Obtaining breast milk online is unsafe feel the experts as the quality may not quite meet the standards required. A number of forums online actually permit the mothers to sell their milk via the net, although buying breast milk online is unsafe. Mothers who produce more than necessary often take advantage of this excellent scheme by providing the people with the coveted milk in order to help an infant. However, all does not seem to be right with the procedure. Health authorities have cautioned the general public against buying unsafe online breast milk. The New York Daily News has also carried an article on the topic hinting that buying breast milk online is unsafe.
Government agencies seem to be most concerned over the issue of selling unsafe online breast milk to strangers who purchase it in good faith without any inkling that the breast milk online is unsafe. Many websites like OnlytheBreast.com and EatsonFeets.org provide a platform to the mothers to sell off their excess breast milk. They, however, have no idea of the infection that the milk can harbor. The risk of contamination persists substantiating the fact that breast milk online is unsafe.
The US Food and Drugs Administration regulations are unlikely to be adhered to when it comes to the unsafe online breast milk say the authorities. The standard procedure for collection, processing, testing and storing are not maintained by individuals who only wish to get rid of the excess milk in exchange for hard cash. The entire procedure remains on shaky grounds as far as the health risks are concerned. It is this lack of standardized procedure which has made the health experts proclaim that breast milk online is unsafe for consumption.
The La Leche League states that mother's milk is the best for a baby but can be substituted by human milk from another woman and formula milk in that order. The informal sharing breast milk online is unsafe however, making it dangerous to buy unsafe online breast milk for a hapless young infant who cannot survive without milk says Sam Doak, the consultant for the International Board Certified Lactation. She had been speaking to the Marietta Times and added that she had known of the practice for quite some time now.
The FDA has now issued a warning to all concerned stating that buying breast milk online is unsafe unless the source is verified properly. While a lot of mothers take out advertisements on the concerned websites while trying to sell their milk, the practice still remains scary as buying breast milk online is unsafe even with assurances.
The practice is entirely legal though in spite of the fact that buying breast milk online is unsafe. The Public Health department of the state only recognizes the need for standardization of milk obtained from cows and goats.
Image Courtesy: onlythebreast.com