»

Blogs

»

Occasion

»

Best 5 Traditional Thanksgiving Meal Ideas
Best 5 Traditional Thanksgiving Meal Ideas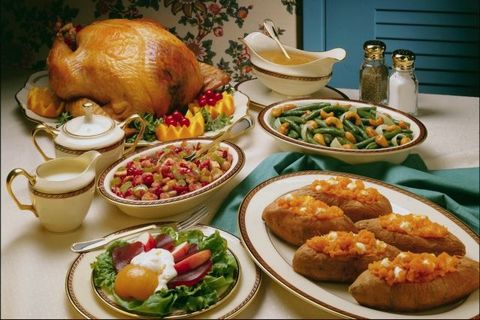 When you want to celebrate nature's bounty, what better way to do it than commemorating a rich harvest through Thanksgiving – to nature, God, fellow humans- celebrating the spirit of festivity through Nature's instincts to give in plenty. To receive and share, you can make your Thanksgiving day memorable by the best 5 traditional Thanksgiving meal ideas.
Thanksgiving is all about giving in gratitude, a gesture of thankfulness, and the classic tradition initiated, has been carrying forward for centuries now. So to relive the classicism of the day, here are a few ideas on the best 5 traditional thanksgiving meals
• Turkey in Stuffing and dressing : All thanks giving meal plans ideate with the turkey – without which any thanksgiving party is unfulfilling. And when it comes to turkeys, carving, dressing and stuffing is an integral part of the show. For stuffing and dressing turkeys, there is a mélange of recipes to serve the purpose, which might look as the same technique employed but is seasoned with a myriad flavors.
• Yams and Cranberry sauce: Sweet potatoes or Yams- a storehouse of richness, is another traditional thanksgiving food which is served in various ways – either cooked in a syrup, or topped with marshmallows as in soufflé or casserole or baked in butter and brown sugar .As for cranberry sauce, the belief holds that pilgrims with whom the thanksgiving first originated, celebrated the festivities with cranberry sauce, of course along with other chutneys as well, but cranberry seemed to crown the celebration which is why it stands out as part of the best 5 traditional thanksgiving meal ideas.
• Corn on the cob : Corns with their innumerable kernels denote plenty and is perfectly symbolic of the bountiful harvest of the season and it is no wonder that it is a must-include as one of the best 5 traditional thanksgiving meal ideas.
• Mashed Potatoes : Mashed potatoes are again one of the best 5 traditional thanksgiving Meal ideas, standing equivalent to the Turkey. Depending upon the region, mashed potatoes serves your thanksgiving meal on a platter- for the various recipes, which can go into its 'seasoning'.
• Pumpkin pie and Pecan Pie : Thanksgiving and Pumpkin always go hand-in-hand. The proceedings of one will stop without the other. So for desserts, pumpkin pie out-stands other rivals, to be a 'cannot-do-without' part of the best 5 traditional thanksgiving meal ideas.
Thanksgiving – A time to rejoice with gratitude to the bountiful Nature, reaping a rich harvest – this generosity when shared with fellowmen, multiples the joy of celebration- what more way to add to the festive spirit than with the best 5 traditional thanksgiving meals!
Photo Courtesy : sh3lly.com

Carol McDonald says :
Hello....HELP! I am hosting Thanksgiving dinner and am searching for a wonderful recipe! Years ago on Regis and Kathy, Joy Philbin did a cooking demonstration of her favorite Thanksgiving stuffing. It had cranberries, pecans,celery, onion, etc. and was just delicious as I tried it several times. It always received raves! I have lost that recipe and am desparately searching for it....with no luck. Would anyone know how I can find it again?
Posted on:
17 November 2011 - 4:27pm