»

Blogs

»

Menu

»

Basil Menu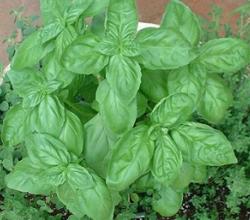 Preparing a Basil menu? Why not try dishes and flavors from different cuisines to really spice up that Basil menu. This herb has a flavor that almost everyone loves and is also well known for its aroma and taste.
Basil Ginger Tofu
This is a super healthy recipe, suitable for vegetarians and vegans alike. To really bring out the flavor of the basil in this dish, whisk together the soy sauce, water, ginger, basil and sesame oil and allow the tofu to marinade in this for a few hours. This dish goes supremely well with brown rice or can be eaten by itself.

This is a simple and appealing recipe to put together for your dinner party or perhaps a family get-together. You can make this dish with or without gravy; your accompaniments will determine that. You can play around with spice levels as well. Basil aids in digestion so this recipe will sit well with most people. To make this dish extra yummy, marinade the chicken in a bowl of milk for 10 minutes or so and then pressure. Indian bread goes well with this dish as well as fried rice.
Lemon, basil and yogurt make a delicious marinade and coating for tender chicken breasts. You can roast them, but the lemon basil chicken breast can just as easily be grilled or broiled. The trick to doing the marinating just right is to first mix yogurt, basil, lemon juice and garlic in a small bowl. Put in the chicken breasts in a ziploc plastic bag. Pour the yogurt basil mixture, covering the chicken and marinate in the fridge for 4 hours.
This soup is perfect for the winters and the summers. The cool refreshing taste of the basil is much welcomed during the heat and the warmth of the soup during the winters. This is a rich, light green colored soup made with green peas and enhanced by a touch of basil. Its high fiber content helps ward off obesity, controls blood sugar levels and reduces blood cholesterol levels. You can save some of the basil to garnish the soup once made and chop some carrots as well to sprinkle over it.
Spicy Shrimp Basil
This is a great shrimp dish with basil and some Asian flavors. Basil can have a fairly
subtle flavor so the idea is to season the sauce without overwhelming the flavors of this herb. Basically you want to balance the flavor of the basil with the saltiness from the soy sauce, some tang from the vinegar, a small amount of sweetness from the honey and some chili heat. The end result is a dish of succulent shrimp smothered in a sauce with the fragrance and flavor of basil.
Enjoy these basil menu ideas. If you enjoy cooking, some of these recipes should be a lot of fun to make.
Image credits - ifood.tv