»

Blogs

»

Diet

»

Balanced Diet Chart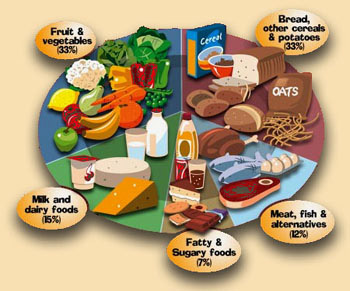 A perfect balanced diet chart contains all the indispensible ingredients which makes a wholesome diet for a healthy person. In today`s fast pacing lifestyle trend, it has become quite difficult to keep track on healthy dieting, and the result is ultimately binging on fast food and funky foods. A good balanced diet chart exhibits right mix of carbohydrates, proportionate indulgence of fats, and generous touch of proteins and vitamins with optimum portions of minerals. In balanced diet chart, the word balance is highly emphasized. Essential fats, proteins, carbohydrates, minerals and vitamins justifies the word balance in "balanced diet chart". Balanced diet should have winning combination of proteins and vitamins, fats and carbohydrates, which keeps you fit and stable for longer life span. Let us sneak peek into a detailed balanced diet chart to implement and follow a proper healthy regimen.
Balanced Diet Chart
We know it very well that one food nutrition can barely suffice our needs of body requirement. Balanced diet helps on maintain body mass index, and also regulated body basal metabolism. Balanced diet chart may vary according to needs, culture, and circumstances of an individual.
Balanced diet for a healthy person
A healthy person must follow a diet chart plan with lots of fruits, eggs, poultry, whole grain cereals, vegetables, natural drinks, meat products and good supplement of dairy products. Make a plan on working day with breakfast including eggs, wheat toast, orange juice, and mix it with lettuce sandwich. In lunch, plan something more nutritious with lentil, and legumes medley.
You can always combine it with some mildly spiced green veg curry or with steamed white or boiled brown rice. In supper, get some baked wheat bread tossed up with tomato and mint puree, and make a gourmet treat with peas and cheese interesting combo. In between main meal, you are free to choose snacking on cucumber and beet salad or something like curd and potato mix.
Balanced diet for a diseased person
A person inflicted with diabetes, blood pressure, and stroke is supposed to incorporate a bit strict food habits. One with restrictions must stay away from white flour, processed foods like semolina, Maida, or artificial sugary concoction. Person with diseased condition must also check his intake of more sugary fruits like grapes, and mangoes. Balanced diet chart for such individual's calls for, more unsaturated fats stuffed foods like nuts, margarine, more walnuts, oats, fiber diets, and omega-3 fatty acids. A diabetic person must not take in sugar diet, must have oats, and green veggies more. A high blood pressure patient must take in more fiber related foods, more of onions and garlic, but keep check on salt and fats intake.
Given the balanced diet chart for both individual with healthy lifestyle, and one with diseased lifestyle, you must try getting the hang of diet chart for healthy living and long living.
Image credit: ifood.tv

Anonymous says :
FIND ALL PICTURES ON A BALANCED DIET
Posted on:
7 June 2012 - 1:06pm
i eat all of this bt surely i eat very wrong too much of it ,now i know how much i shuld eat,hoping to loose some kg
Posted on:
29 October 2012 - 4:14am