»

Blogs

»

Facts

»

Help

»

10 Ways To Use Pureed Pumpkin
10 Ways To Use Pureed Pumpkin
Autumn, the season, which brushes away the old to give way to the new and a season to rejoice with pumpkins as well. Apart from the jack-o-lantern, which you would have spent your time carving for the Halloween, lets explore some top 10 ways to use pureed pumpkin, which will prove to be one memorable way of your Thanksgiving dinner.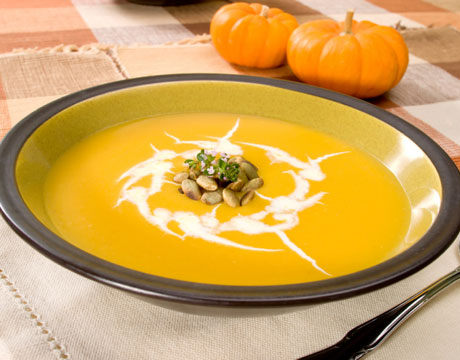 • Frozen yoghurt whipped in the puree : Frozen yoghurt or vanilla ice-cream, allow your yoghurt to thaw a bit and then mix the pumpkin puree with the yoghurt and stir it nicely. You have a frozen delight that makes best of the fruits available for the season.
• Pumpkin cocktails : Pumpkin puree serves its very best even in cocktails. So the next time you want to enjoy a drink and have enough of the puree on hand, try mixing up a pumpkin martini, and you have all reason to swirl and stir a tasteful drink.
• Creamy soup : A cream soup on wintry evenings cannot be less than a heart-warmer, and what better way to zest it up than adding pureed pumpkin to it, one of the best of 10 ways to use pureed pumpkin.
• Pasta and Pumpkin Puree : Sounds weird? Not really. Instead of the usual tomato sauce or custom pasta sauce, you could use pureed pumpkin to add to the sauce and make your pasta taste different. Sizzling hot pasta dripping with the flavor of pumpkin puree sauce this is one "Italiano" with a twist in its twirl!
• Pumpkin desserts : No, we are not talking about the typical pumpkin pie. There is enough room to come out with more - Pumpkin brownies, pumpkin layered cakes and whoopee pumpkin pies. Now if you have a sweet tooth and make the best of the 10 ways to use pureed pumpkin, just dash off to show that creative streak in you!
• Ravioli : To wrap up on the pasta secrets, you can try some new fillings for your ravioli pasta. The ravioli pasta comes sealed with a filling between two layers of thin pasta dough. Pumpkin puree as a filling for the ravioli is not only yummy to taste but also provides the texture to serve the purpose!
• 'R' for Risotto and 'P' for pumpkin : Risotto is a class of Italian rice where the rice is cooked in a broth – vegetable, meat or fish, to a creamy consistency. Now pumpkin puree can be added to make a lavish and rich Italian rice making risotto the 'crème' of Italian rice dishes.
• Bread 'n' butter 'n' Pumpkin : If you are ready to look beyond the conventional bakes made out of pureed pumpkin, they try making pumpkin bread, which makes optimum use of pureed pumpkin and also gives a distinguished taste to your conventional bake,
• A substitute for Squash : Roasted butternut squash may be readily available but it so happens that at the nick of time, the ready-availability fades into oblivion and you feel absolutely helpless to pursue your dinner recipe. Take heart, you could always substitute pumpkin puree in place of the squash (as in lasagna) as they have a strikingly similar taste to help carry on unperturbed with your preparation, as one of the 10 ways to use pureed pumpkin.
• Pumpkin butter : Peanut butter is familiar but Pumpkin butter? Yes, you can imagine yourself as "Peter the pumpkin eater" now and for an easy round-up on how to make pumpkin butter is to soften ordinary butter and whip it up with pumpkin puree so that it gets blended well. Apply this to your toast or pancakes and you will have the butter melting into your mouth with the pumpkin flavor lingering.
Well, now that you are equipped with a reckoner on 10 ways to use pureed pumpkin, you just need to spring up for the season and make the best of what is available to warm up with pumpkin delights.
Photo Courtesy : showmethemom.com